Jenny McCarthy battles son Evan's autism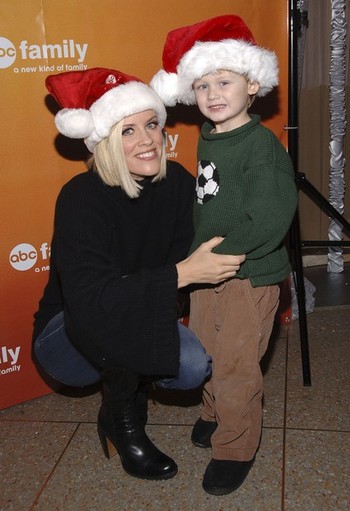 Actress Jenny McCarthy, who has written several humorous books on pregnancy, motherhood, and moving on, tackles a more serious topic with her next tome – her son Evan Joseph, 4 1/2, battles autism. Her latest book, Louder Than Words: A Mother's Journey in Healing Autism, will be out on September 6th. Jenny describes it as 'a heartbreaking story about a serious health issue.'
Jenny, who runs IndigoMoms.com, is of the belief that Evan is a 'crystal child,' and she herself is an 'adult indigo.' This belief suggests that 'indigo/crystal phenomenon is the next step in our evolution as a human species.' Proponents also suggest that many indigo and crystal children are wrongly diagnosed with ADD, ADHD, and autism. Starchild has more information, for those interested.
Jenny says that, 'Evan is sensitive to air and water, he's that hypersensitive,' so she's had to adjust her parenting. You can read an essay on the indigo/crystal belief that she wrote in 2006 for Children of The New Earth magazine by clicking here.
CBB reader Emma's Mom knows Jenny and leaves this comment,
I thought you all should know that I happen to know that Jenny does take it very seriously and has Evan in a really great program at UCLA for autistic kids and it has nothing to do with the indigo/crystal thing. She is, from what I have seen, an absolutely wonderful, loving mom of her kid.

Having experience with a few autistic kids myself and following a few adult autistics I can tell you that what she is doing is interesting. She's removing the 'there's something broken in my child and adding 'there is something special in my child that others don't see.' I love that, personally, as I too see the something special in there.

It doesn't replace therapy and it doesn't spew fake science. I just had to step in here and defend her from these, what I consider to be, unfair attacks.
Source: WENN
Thanks to CBB readers Sacha and Vicky.