What Happened When Julie Bowen's Water Broke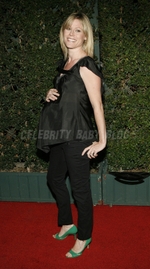 Julie Bowen
literally worked until the last minute on
Boston Legal
when she went into labor. Co-star
William Shatner
recounts the hectic atmosphere on set Tuesday night.
Her little muscles contracted until the scene was over, and 'Bang!' Her water broke. I followed the trail for as long as I could and then I lost it.
Julie gave birth to her first child, son Oliver McLanahan, with husband Scott Phillips later that night.
Source: Contact Music

Did your water break in any interesting places?