Miller Duchovny takes Manhattan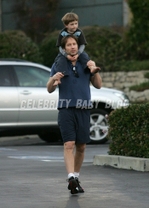 David Duchovny visited Live with Regis and Kelly yesterday morning and told Kelly Ripa and guest host Pat Sajak a humorous tale of his last New York City adventure with his son Kyd Miller, 4 1/2. Wanting to show his son the sights, he planned a loaded day of visits to such landmarks as FAO Schwartz and the Empire State Building, only Miller wasn't very enthused about it.
I said, 'We're gonna do all these things and then we're gonna go tothe Empire State Building and he's like, 'No! No!' I said, 'No it'scool. It's a very tall building. It's not scary…So we're going through our day and every stophe's saying, 'No, no, no!' In his mind he's not enjoying anything. We'reeating chocolate at that place I can't remember so I don't get a freeone. And then we go FAO Schwartz for the big teddy bears and finallywe're on our way to the Empire State Building and I said, 'Look, we'regoing to the tall building, it's gonna be good.' And he's just holdinghis seat like this (clenches his hands) and he goes, 'I do not want to go to the Vampire State Building!' And I said, 'I get it now. Because I don't want to go thereeither.'
Asked about why he and Téa Leoni call Miller and Madelaine West, almost 8, by their middle names – which is a tradition in Tea's family – David responds,
That's a thing my wife decided. I don't know. Why isn't their middlename their first name? I don't know. You're gonna have to ask her thenext time she's on. It's a mystery to me. I just said, 'Yes.'
Their middle names carry special meaning though.
Miller's my mother's maiden name and West is a family name from Téa's family.