Julia Louis-Dreyfus says kids should always wear underwear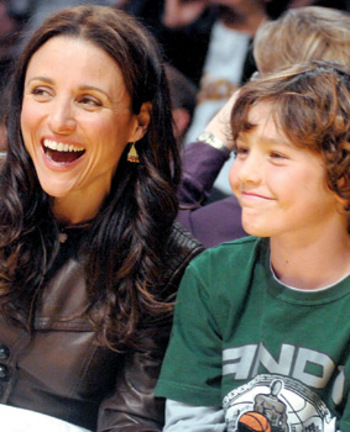 Julia Louis-Dreyfus appeared on The Tonight Show with Jay Leno andmentioned a much-talked-about skit she recently did on Saturday Night Live inwhich she mocked Britney Spears and Paris Hilton by stepping out of alimo without underwear on. Her sons, Henry, 14, and Charles, 9, withhusband, director Brad Hall, saw the parody and while Henry understood it, Juliastruggled to explain herself to Charles.
There are many, sort of, different levels for me to explain.First of all, what was I thinking? But anyway, you know, it was justall bad. I had to explain that, of course, that I really had underwearon. Mommy was really wearing underwear. You know, I mean it was justvery upsetting, the whole thing.
As for what she thinks of Britney and Paris' antics from a parental perspective, the actress says,
Asa parent, where are those girls' mothers? That's what I want to know.Where are their mothers? Put on your panties! Right? Aren't we supposedto be wearing underwear? Isn't that sort of basic? Isn't that whatNancy Pelosi [who was the next guest] will say to us? Wear yourunderwear!