Gwen Stefani: If you had paparazzi outside your house, you'd make sure you looked good too!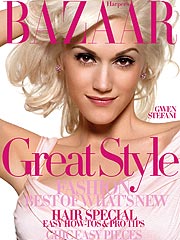 Songstress Gwen Stefani, 37, appears on the May cover of Harper's Bazaar magazine. In the issue, the mother of Kingston James McGregor Rossdale, 10 months, chats about struggling with her weight, nursing, and what she thinks of Gavin as a father. The highlights:
On looking good out in public: If you had paparazzi outside your house, you'd make sure you looked good, too. I was dying to get out of the house [during my pregnancy], but I had to sneak into the back ofmy brother Todd's car – eight months pregnant – and lie down on thefloor. Just so we could go to Target.
Losing that post-pregnancy weight: It's so much work afterward to get the weight off. I thought I was going to throw up [the first time I went jogging after Kingston was born]. If youjust do it, it comes off. And when you're nursing, like I am, yourmetabolism is like whoosh!
You're sleep-deprived, but you have this crazy amount of energy because of all those hormones. I'm scared what'll happen when it all stops. what it'll feel like, going back to the regular me.
A lifelong struggle: Seriously, though, it's very boring and embarrassing and I hate talking about it, but it's true. I've always been ona diet, ever since I was in the sixth grade. It's an ongoing battle andit's a nightmare. But I like clothes too much, and I always wanted towear the outfits I would make. And I'm veryvain. [laughs] I let myself cheat once or twice a day with acookie or pizza.
On Gavin as a father: I even wrote in a song, 'You seem like you'd be a good dad.' [From 'Simple Kind of Life']. So, yeah he's lived up to my expectations, more than. He hasalways been very loving and romantic.
Rinse and repeat: Now I'm in a repeater zone. I just want to make babies and make records.
Gavin on Gwen and Kingston: He arrives at the interview, carrying Kingston. Gavin beams while talking about their son. 'He's already got four teeth. And he's keeping Gwen up a lot, because she's nursing. But other than that, he's a happy little boy.'
Source: Harper's Bazaar via People and Us Weekly.