Valerie Bertinelli diets with her son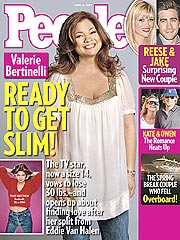 Valerie Bertinelli was featured in People Magazine last week talking about her new weight loss goal through Jenny Craig. She has decided to take on her 30 pound weight loss goal with her son, Wolfgang, 16, with ex-Eddie Van Halen. Valerie explained to People how it was almost impossible to avoid weight gain while she was raising her young son, saying,
I was in the airport 5 days a week [while working on Touched by an Angel]. I would fly home just to tuck Wolf in and then be gone again.
After years of this pattern, Valerie noticed both her and her son were gaining weight and she decided they would both go on Jenny Craig. Of the diet, Wolf told People,
Every piece of food in this house is Jenny Craig. It's working though, so, maybe it's for the best.
Wolf also talked about how proud he is of his mom.
We had a huge cake [for my ] and my mom had her Jenny Craig fettuccini. I'm proud of her, she's really working at it.
Wolf is a sophomore in high school and is a guitarist. He often plays bass in his dad's band and was planning to go on tour with dad and Van Halen this summer until Eddie checked into rehab for alcoholism in March.
Source: People Magazine April 16th issue, pg. 109
Have you and your kids lost weight together?