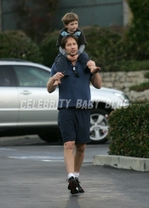 If Haley Scarnato doesn't get voted off American Idol tonight, she may have David Duchovny's son, Kyd Miller, 4 1/2, to thank for it. David told David Letterman on The Late Show that Miller has been a fan of Haley's since David and Téa Leoni allowed him and sister Madelaine West, 8 on April 24th, to watch the show, although he didn't initially start out as one.
We decided over spring break cause they're staying up a little laterthat they could watch American Idol, you know cause…I don't know why we let themwatch it. And it's a singing competition, and so my daughter is into it,kinda judging and thinking who's good.
As for Miller, at first he wasn't a fan of the show or any contestant at all, which David knew from his seating on the couch or lack thereof.
If there's a show on that he's not interested in, he'll put hishead [in the couch] and put his ass up so his ass is towards the screen andthat's pretty much when you know he's into it or not. And all of a suddenthere's this contestant named Haley Scarnato and she's very attractivewith long legs and all of a sudden, she caught Miller's eye and he justturned around, he put his ass in the chair and he looked at her and hesaid, 'I think I know her!' And then he said, 'She's a really goodsinger!' It was like America has voted.
Haley isn't the only woman on Miller's mind though. David says Miller "wants to marry my wife, which I think is normal at this age." West, though, has other creatures in her sights.
My daughter wants to marry a lion or a monkey. How does that make me feel?
Asked how different he thinks an 8-year-old's perspective is from a nearly 5-year-old's, David says,
It's difficult because I think at every age you start to mastersomething that frustrated you a year or two ago and yet you lookforward to other activities that are frustrating because you can'tmaster them yet. So I think it's always a mixture of just bliss andfrustration…much like your job.
On a more serious note, David says he thinks it's every parent's hope to protect their children from all the bad things in life, although he realizes he can't always do that.
I think parents just want to keep their children from pain and allthat frustration of growth and it's hard. You gotta let them do it. Iwas watching this show on John Wooden, the UCLA coach, and he said theworst thing we could do for our loved ones is to do the things theyshould and could do themselves.