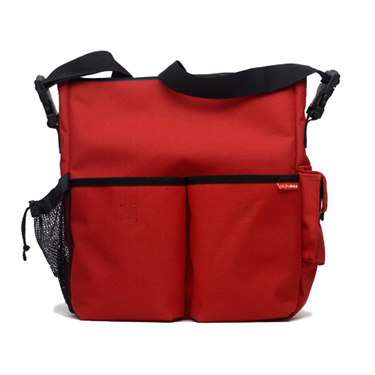 Prince Felipe of Spain and wife, Princess Letizia, strolled through a park in Spain last week. The couple's daughter, Princess Leonor is 17 months and they are expecting their next daughter by the end of May. Prince Felipe wears the ever popular Duo Canvas Bag ($50) by Skip Hop. This diaper bag is the first of it's kind to convert from a stroller bag into a messenger-style shoulder bag. The strap will snap onto any kind of stroller and contains heaps of pockets for all those little things – even your sippy cup! It also includes a waterproof changing pad, a variety of pouches and pockets and a cell phone holder. The bag is 13 inches wide, 14 inches high and 3 inches deep.
Other celebrities that love their Skip Hop Duo Bags are Brooke Shields and Claudia Schiffer.
Continue reading for two more photos.