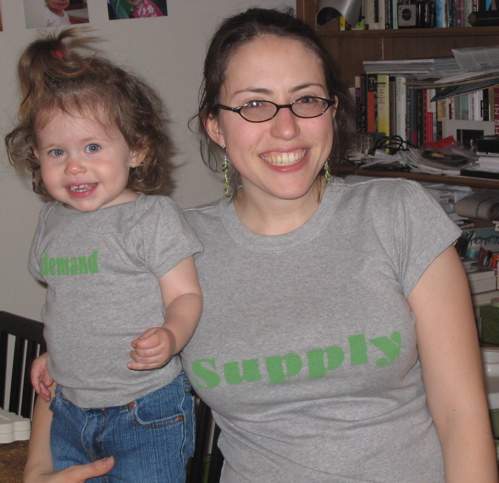 Milkdudz – not your mommaz nursing wear is going back to school and bringing all breastfeeding moms with them with their Economics 101 t-shirts- starting with the Supply and Demand t-shirts for mom and baby.
This beautiful 100% lush cotton t-shirt is cut in a flattering extra long length and is adorned with cap sleeves and a cute triple pin tuck at the top of the sleeve. It's no wonder that this matching mommy/baby t-shirt is adored by A+ list breastfeeding celebs such as Gwen Stefani, Mariska Hargitay, Heidi Klum, and Maggie Gyllenhaal. At almost 18 months, Anya is still nursing (just during the day), with no sign of stopping so I am proud to wear the shirt set.
Here's what Mariska Hargitay had to say about these new shirts: "Thank you for the Supply and Demand tee shirts. They're adorable! It was so sweet of you to think of me and August." And new mom Tori Spelling thinks that the line is full of "Absolutely adorable stuff!"
Together with Milkdudz – not your mommaz nursing wear, we are offering 4 lucky winners a chance to major in Economics 101 – breastfeeding style and win a Supply and Demand t-shirt set.
Update: Here are our winners and what they said is their favorite thing about nursing their children.
Lynn J.: My favorite thing about nursing: Nursing MAKES me slow down and appreciate what I have. No matter what is going on in my life I can't speed through a nursing session. Nursing is just me and my beautiful baby boy….no one else. He gets distracted very easily (just like his momma) so I have to make nursing a very quite time for us. This is my last baby so I want to remember every little moment and nursing helps me to do that. Such a wonderful experience!!
Heather B.: It is difficult to say one favorite thing about nursing, but if I must, I would say the bonding that comes from being the only one who can do this for my baby and seeing her incredible independence as a result of it. Thank you for helping to make breastfeeding mainstream, and helping mommies to feel hip while doing it.
Stacy K.: My favorite thing about nursing is the closeness I have with my baby. When she looks up in my eyes while playing with my shirt or fingers everything in the world melts away. It is like we are the only two people that exist. Even though I am so tired in the middle of the night, it is wonderful to snuggle this way.
Becky C.: When my daughter, "comes up for air"! Her lips are all full and red, milk is running down her chin, and she gives me the biggest "thank you" smile every time… melts my heart!
Since every breastfeeding mother and child is a winner, Milkdudz is offering everyone else a 15% discount on the purchase of the Supply and Demand t-shirts when you use coupon code MDZ15.
Please post your favorite thing about nursing your children!
Here's mine: Like Heather said above, it's hard to choose just one thing so I'm going to cheat and list a few. Anya has recently discovered a little raised birthmark on my chin, just below my lip, and recently, whenever she nurses, she likes to play with it. She presses it like a button, pinches it, caresses it. I never paid much attention to it before, nor has she, but all of a sudden, it's her favorite thing to do when she's nursing. The second favorite thing is, like Lynn said, nursing makes you take a break and enjoy time with your baby. Especially with an active toddler, it's a rare chance to hold Anya for more than a few seconds without her squirming. The third favorite thing is that when I ask Anya if she wants to nurse, she giggles this goofy laugh, kind of like "heh heh." (She also does it when we ask her if she wants to watch Sesame Street or eat an apple.)
Check out this great article in the Boston Globe called "Supply & Demand," about more and more American women choosing to breastfeed their children not only past the first year, but also beyond the second, third, and sometimes fourth and fifth. As the title says, it's not just earth-mother stereotypes doing it.