Stealing That Look, Forty Weeks Style: Bridget Moynahan

by Julia Beck, of Forty Weeks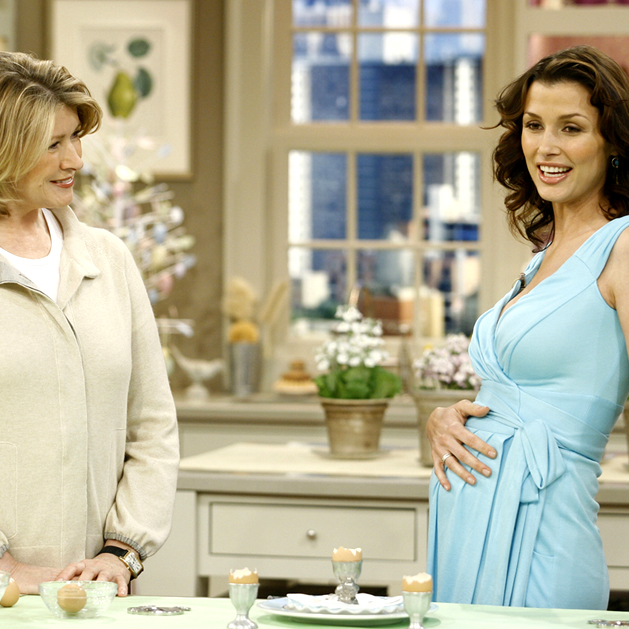 Bridget Moynahan glowed like a true all-star on the Martha Stewart Show in late March. She wore Diane Von Furstenberg's Celosa sleeveless wrap dress in a rich and flattering hue of baby blue ($345). The wrap fit her beautifully and allowed her personality and excitement to take center stage! Pregnancy rookie Bridget is certainly getting some great style advice.
Here is what to keep in mind when Stealing Bridget Moynahan's Look, Forty Weeks Style:
Show off your best assets – Bridget's arms and shoulders look firm and toned. The sleeveless wrap was an ideal pick. If your upper body is giving you fits, choose a short, cap or ¾ sleeve wrap.
Frame your face – a deep v-neck focuses the eye upward to reveal your lush hair and glowing facial features. Accessories can be added to enhance the effect of a V (think one strong piece) – I would vote for an ethnically inspired pair of hanging earrings – for color and a personal accent.
Choose color – black is always safe, but it does not reflect light and tends to downplay the radiance of pregnancy. You will likely need a "little" black dress or two in your wardrobe – just keep the collection at a minimum!
Steal That Look Forty Weeks Style – Wrap it up – I'll take it!
A wrap dress is an essential of any pregnancy wardrobe. A well constructed wrap dress (look for quality fabric with a high level of memory that will grow and shrink with you) will take you from early pregnancy well into your "fourth trimester" – all the while allowing you're to look and feel confidently gorgeous. It is a maternity investment piece, meaning – this one will be a workhorse for you – spend what it costs to get it right!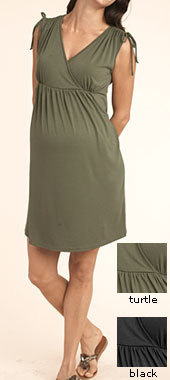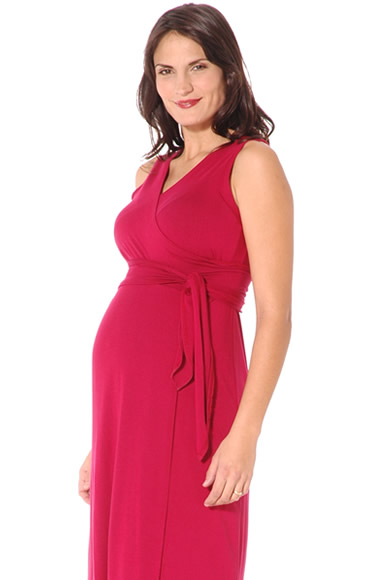 babystyle's sleeveless wrap dress (pictured left) features an empire waist and flirty details. It is well priced and buying from baby style is a snap. If you are looking for a dress embellished with a bit of trend-forward design to personalize this classic style, this one fits the bill. ($68, comes in black and turtle)
Japanese Weekend exclusively for Belly Dance Maternity's Sleeveless Wrap Dress is a true classic. Japanese Weekend is one of the oldest and most established brands in maternity – and after all these years, they really know how to flatter the pregnancy body! This well designed sleeveless wrap is the most modest of these three options offering fuller coverage and straightforward lines which will translate well into any style situation.($116, comes in black, raspberry and pink)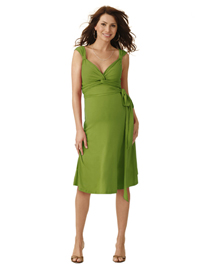 Isabella Oliver's Empire Wrap Dress has the deepest of all the V-necks (which is flattering and can also be made more versatile by layering in a tank or cami). (I swear by Only Hearts Tank Cami (4157)
for this important supporting role.) The super flattering V-neck drops to an empire waist with lots of fabric along the way for wrapping. This British newcomer offers great style but requires a bit of patience to "wrap right"- be sure to refer back to their style guides on their for your inaugural wear!($155, comes in black, raspberry and chartreuse)
Other less expensive options do exist Keep in mind, however, that a wrap dress is really meant to be a central piece of any maternity wardrobe (as opposed to an accent or trend piece) – so shop wisely. Quality of garment (plus care of garment, of course) will dictate its lifespan. Consider this less costly option, Motherhood Maternity's Sleeveless Yellow Dress ($30)
, available at Maternity Mall.
Would you buy any of these dresses?