Charlotte Church embracing pregnancy on her show
Hello magazine has a photo of pregnant singer/ UK talk show host, Charlotte Church on her Friday night show patting her burgeoning belly while talking with her special guest, pop singer Avril Lavigne. The two stars discussed growing up quickly. 22-year-old Avril married Sum 41 singer Deryck Whibley last summer and 21-year-old Charlotte is expecting her first child with her longtime boyfriend, rugby player Gavin Henson. When Avril began to talk about the joys of marriage, Charlotte reportedly confessed that if proposed to by her beau, she would quickly say "yes."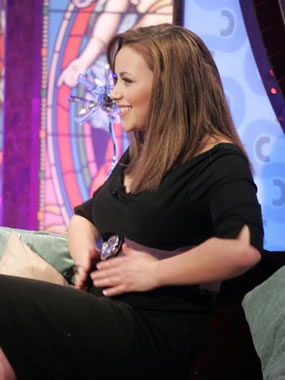 Source: Hello
Thanks to CBB Reader Domenica!