Tori Spelling talks to Glam about style, Lauren Kiyomi and pregnancy before Liam's arrival
Tori Spelling did an interview with Glam.com when she was about 34 weeks pregnant with her son, Liam Aaron McDermott, now 2 1/2 weeks. She talks about style, maternity clothing, her love of Lauren Kiyomi and her fashion ideas for Liam. Liam's dad is Tori's husband, Dean McDermott.
Tori said that she didn't feel that most maternity clothes were right for her, but did mention that she loves the maternity clothes by Lauren Kiyomi. In the interview she is wearing Juicy Couture, just in a bigger size. Lauren Kiyomi tells us that she assisted Tori in picking out some pieces from her clothing line. She went on to tell us that;
Tori has a great sense of her style and what works on camera.
Tori wore Lauren's metal-embellished top ($72) for the photo shoot of Liam's nursery.
Tori also wore Lauren's printed silk chiffon dress ($110 – exclusively available at DueMaternity.com) for the Gymboree Charity Event.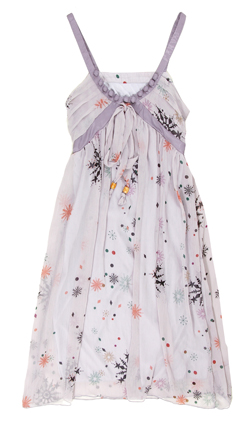 Tori also wore Lauren's Snowflake Chiffon Dress ($90) on the Today Show.
Other pregnant celebrities that love Lauren's designs are Dayna Devon, Marcia Cross and Amanda Peet.
Tori also mentions some of her favorite beauty products. As an expectant mom she loved Biosilk, for use on both your hair and skin. Also, lip plump by Too Faced. However, Tori mentions that you can't use this during pregnancy.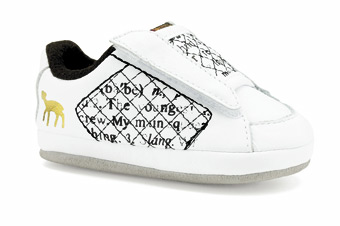 At the time of the interview Tori tells them that she hasn't bought many things for Liam as she was a little superstitious about buying for both herself and the baby too early, just in case. However, in terms of fashion for Liam, Tori mentions that she received some L.A.M.B. shoes from Gwen Stefani's line. Tori says that they are gold and white, so she most likely received the Baby Crib ones in white ($50). Tori adds that she is definitely going to be a little more adventurous in her fashion with Liam, as opposed to traditional dressing. Think Kingston Rossdale perhaps?
Look out for our review of Lauren Kiyomi's line by reviews editor Teba next week. In the meantime, check out our reviews site. If you would like to submit your product for review please email cbbreviewsATcelebrity-babies.com.
Source: Glam.com