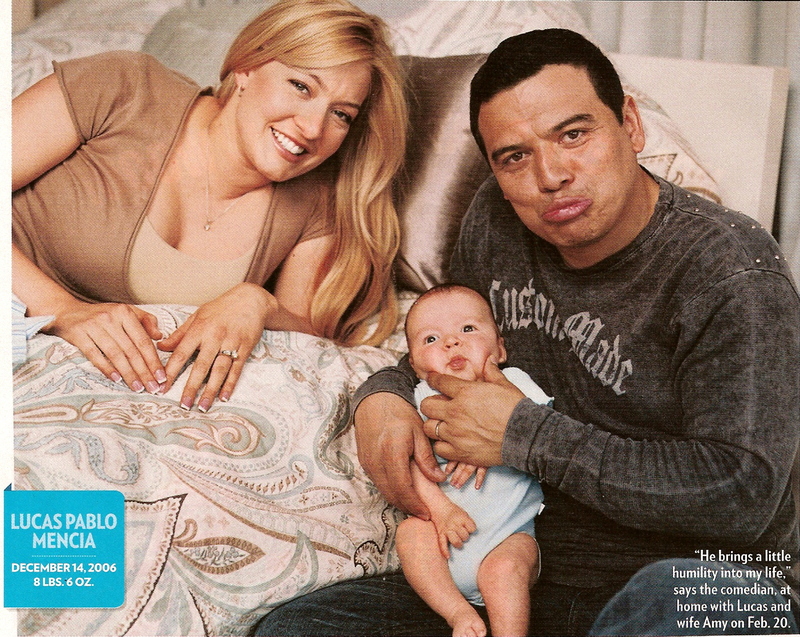 Carlos Mencia stopped by The Tonight Show with Jay Leno last night and shared how he and his wife Amy chose their son's name — Lucas Pablo, 3 months — and what his dad cannot call the baby. The comedian says he and Amy were worried about what to name their son because she is white, leading Jay to say, "Well, that's a big problem." Carlos responds,
Well it is cause my entire family is like Alberto, Joaquin, Roberto and you're gonna be the only to give them -
"Ashley," Jay interjects.
Carlos says,
Exactly! Like I just wanted to name my son Cody just hear my dad go, 'Cody?' (in a thick Spanish accent)
He says they finally settled on Luke because it's a "good biblical name." However, his father was slightly confused when he was told what his grandson's name will be.
He goes (again in a thick Spanish accent), 'Luke? Like you're looking for something?' And I'm like, 'No, dude, LUKE, not LOOK.' And he's like, 'Well, Luke is look. And I'm looking and then there is your son Luke.' So we had to go with Lucas, but I call him Luke. But my dad still calls him Lucas cause I don't let my dad call my son Luke cause then he goes, 'Look at your son! Look at Luke!'
If your family is multiracial/cultural, did you have name issues as well?