Patricia Arquette refused to lose baby weight for "Medium"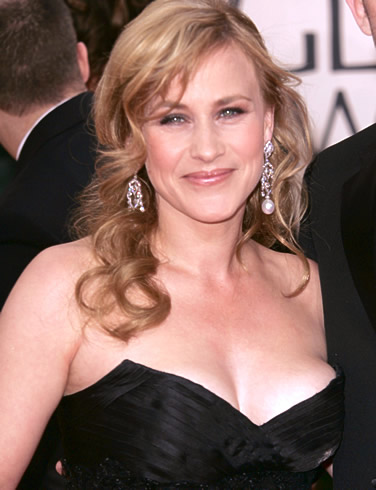 Patricia Arquette chatted it up with the ladies of The View yesterday morning and revealed that she was asked to shed some of her baby weight, from her pregnancy with daughter Harlow Olivia Calliope, 4, when she landed her starring role as psychic Allison DuBois on Medium. But the Emmy winner did not succumb to the pressure.
One of the producers said, 'Honey, you gotta do something about your weight.' I said, 'Why? This [character] is a mother of three.' I'm sick of that image everywhere. Now I've done movies where I'll work out like a demon cause I decided the character needs look like this. But if I put in my head that a character should look like this, then I'm stubborn about it. But our show creator Glenn said, 'You look great. What's the problem? I don't have a problem.'
Patricia also spoke about how Harlow came at a perfect time for her son, Enzo, 18, who was growing tired of his mom being in his business.
I was mama henning him. He was like, 'Thank God, you got a new baby. Give me some space, lady.' So he was glad about that.
Having Harlow, with husband Thomas Jane, meant that Patricia could continue to put her secret talent to use. The actress is quite crafty, creating toys and costumes for her children's s.
Last year, I made a bunch of heirloom puppet theaters because I want to make a line of kids toys where all the money goes to charity, not junky kind of toys, but great toys that you can give to your grandkids.