Gisele Bundchen says having a family will be her 'greatest achievement'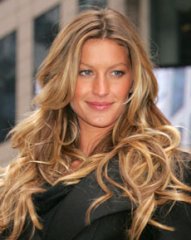 Although she is denying pregnancy rumors, model Gisele Bundchen, 26, says having a family will be her greatest achievement. She said,
Everybody is different, but for me, having a family will be my greatest achievement. When you have a family that you can raise the way your parents raised you then I think you have succeeded. I have that dream. I don't know when it's going to happen. Everything in life has to be planned. I've very old-fashioned. I believe in being married and going to your husband and saying, 'Let's have a kid.'
Gisele says she has 'no idea' how the pregnancy rumors surrounding her and her quarterback boyfriend Tom Brady started, but insists, "I never speak about my personal life."
Source: Female First
Thanks to CBB reader Mary Beth.