Comedian Carlos Mencia and his wife Amy show off their new bundle of joy, son Lucas Pablo, 3 1/2 months, in the new issue of People. Lucas made his debut on December 14, weighing in at 8 lbs. 6 oz., and Carlos nearly missed the birth. The Mind of Mencia star was filming The Heartbreak Kid in Cabo San Lucas when Amy went into labor. One flight and one helicopter ride later, Carlos arrived in Encino, Calif. just in time. He says,
She told me, 'I don't care how hard you work. You have to be here.'
The actor says fatherhood is indescribable.
You watch your Discovery Channel and see the birth of an animal, and you think you know what the process is all about, [but when it's a child] there are no words. You have to cry when you see that little kid. Because it's yours.
Carlos also says Lucas has brought "a little humility" into his life and loves going home to entertain him.
I get to go home and make him laugh. How cool is that?
But little Lucas gets to come to work too. He has his own nursery on set and the theme is, according to dad, "Rich Baby Who Has Way Too Much Stuff."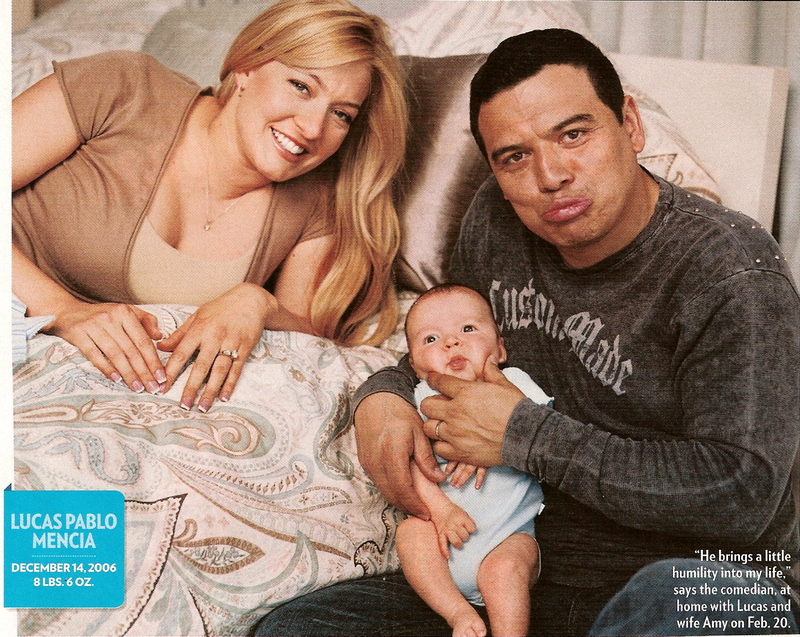 Source: People, April 9 issue, pg 100