Allegra Versace suffering from anorexia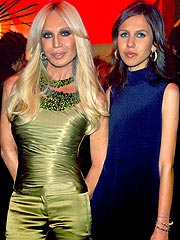 In a statement released yesterday, designer Donatella Versace confirmed that her daughter, Allegra, 20, suffers from anorexia. Donatella and Allegra's father, Paul Beck, had this statement:
Our daughter, Allegra, has been battling anorexia, a very serious disease, for many years. She is receiving the best medical care possible to help overcome this illness and is responding well. As parents, we are doing our best to protect our daughter. However, due to numerous media reports, we want to let everyone know that we appreciate their concern for Allegra, and we ask that her privacy be respected at this time.
Source: The Insider
Thanks to CBB reader Mary Beth.