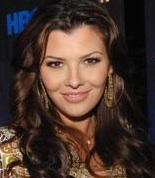 According to I'm Not Obsessed, Ali Landry and Alejandro Gomez Monteverde are expecting their first child together. A source close to the couple said,
It's all very hush-hush…no one knows.
Well, not for long! CBB reader Beka tells us,
A radio DJ, who has had her on the show several times, made a deal with her. He said that he would not reveal the "secret" if she called in herself and said it live on air. I'm not sure how long he gave her, but she did not call and listeners were graced with the news.
We hear the baby is a girl and due to make her arrival in July.