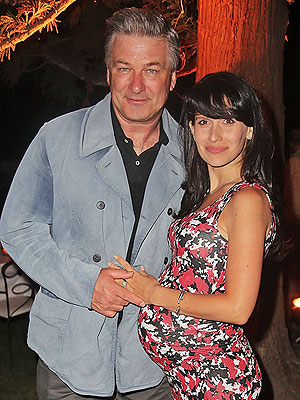 Sonia Moskowitz/Getty
After welcoming son Rafael Thomas on June 17, Hilaria and Alec Baldwin are opening up about life with their baby boy.
"Rafael is such a cute little kid," Hilaria told The Daily Mail in an interview published Wednesday. "He and Carmen look alike. He has Alec's nose. They both have my lips and chin. One of his ears is identical to Alec's ear."
Their daughter Carmen, 21 months, was very well prepared for her new duties as big sister.
"Before the baby was born, I bought Carmen some dolls and we named them Rafael. We dressed them and changed their diapers. Carmen would kiss my stomach and say 'Rafa! Rafa!' " Hilaria said. "Carmen is the best big sister. She wants to kiss him, hold him, play with him and sing to him." 
And Alec, 57, is thrilled to finally have a son. (He is also dad to 19-year-old model Ireland Baldwin, his daughter with ex-wife Kim Basinger.)