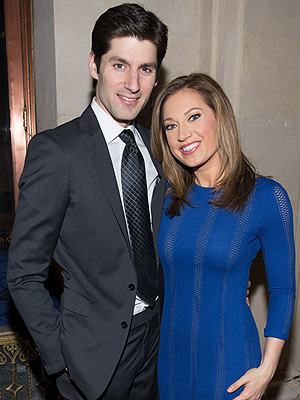 Mike Pont/FilmMagic
Ginger Zee's future is looking bright: she's pregnant!
The ABC chief meteorologist is expecting her first child with husband Ben Aaron, she announced Monday on Good Morning America.
"This is the most nervous I've been in awhile," the mom-to-be says. "The forecast for delivery is in December."
Although Zee is known for her thrilling excursions — she's hiked in Nepal, flown over the Andes and was on assignment on a volcano in Iceland — she admits motherhood has been a whole new roller coaster of emotions.
"In all the other adventures, a promise you will return home. This is like, when you get home, the adventure is there and that's the big difference and why it is so emotional for me," she says. "I'll do anything, but this scares me."
Zee tells PEOPLE exclusively, "I think I need to get a BabyBjörn that fits on a paraglider. Seriously though, we are elated to have the opportunity to be parents. Motherhood will absolutely be my most extreme adventure yet! Can't wait to teach it all my favorite meteorology terms."